This self-directed research project examined people's changing relationship to the waterfront in the urban context of East Asia. Specific bodies of water were chosen as case studies and mapped in relation to varied users and a diverse range of waterfront activities. The project seeks to understand the role of water in the economic and social processes of urban life and to what extent it is inclusive of diverse users and program.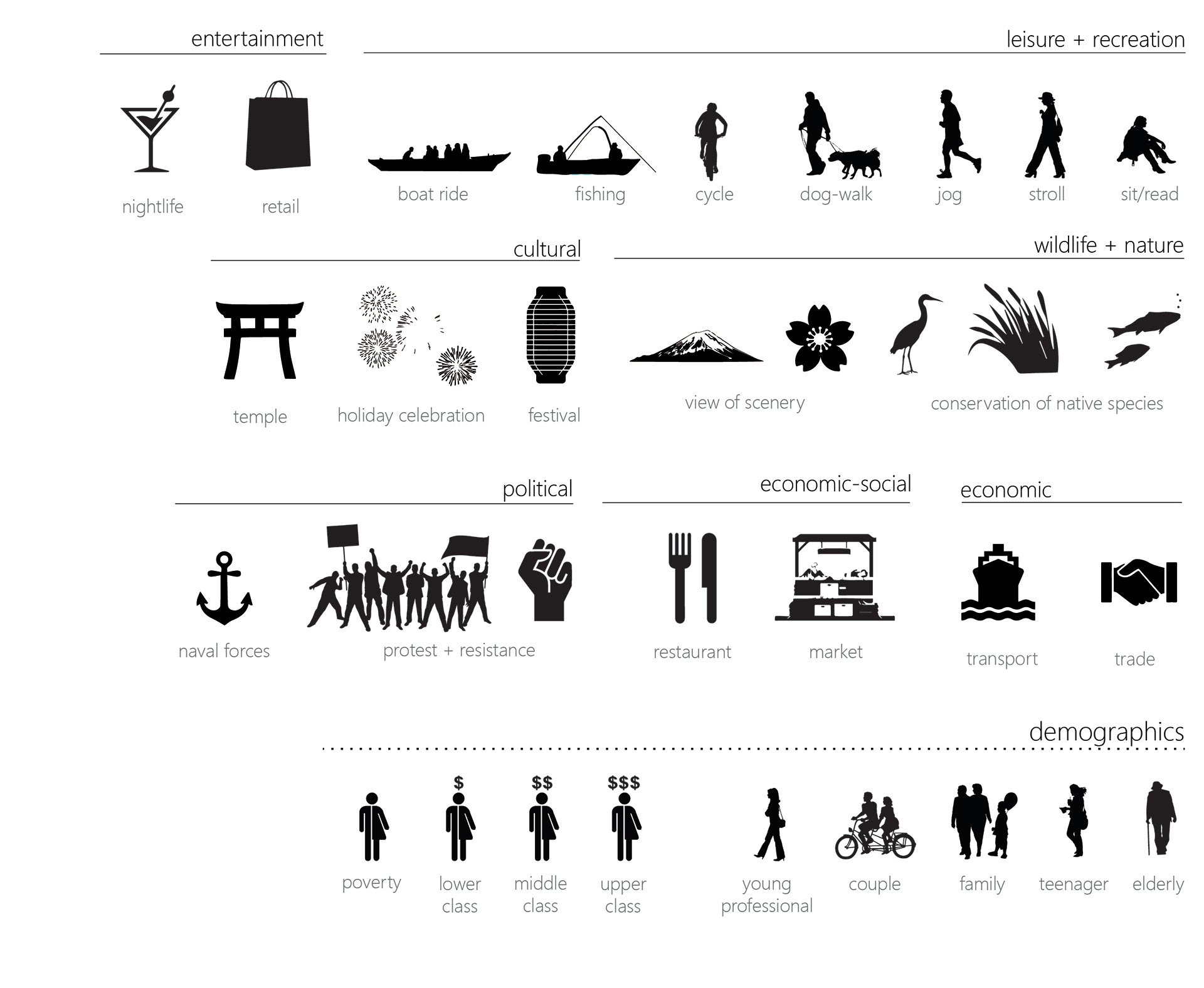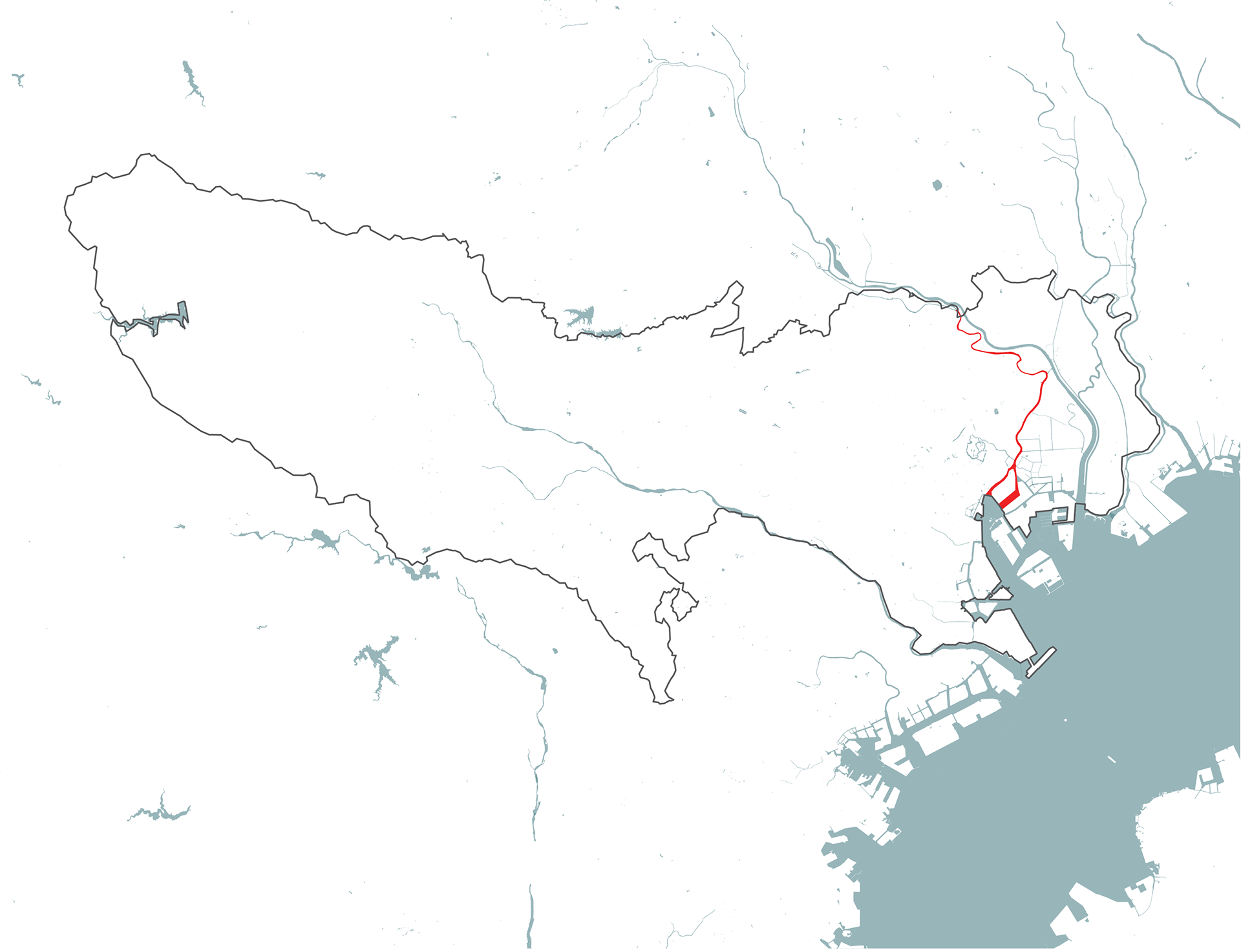 HISTORICAL
The Sumida River is Tokyo's largest and most historically relevant body of water. In Tokyo's historical past, the Sumida River served an important role in trade as well as being home to the everyday needs and entertainment of people from all classes of Japanese society. This is evidenced in Hokusai's famous woodblock prints depicting everyday life along the Sumida River.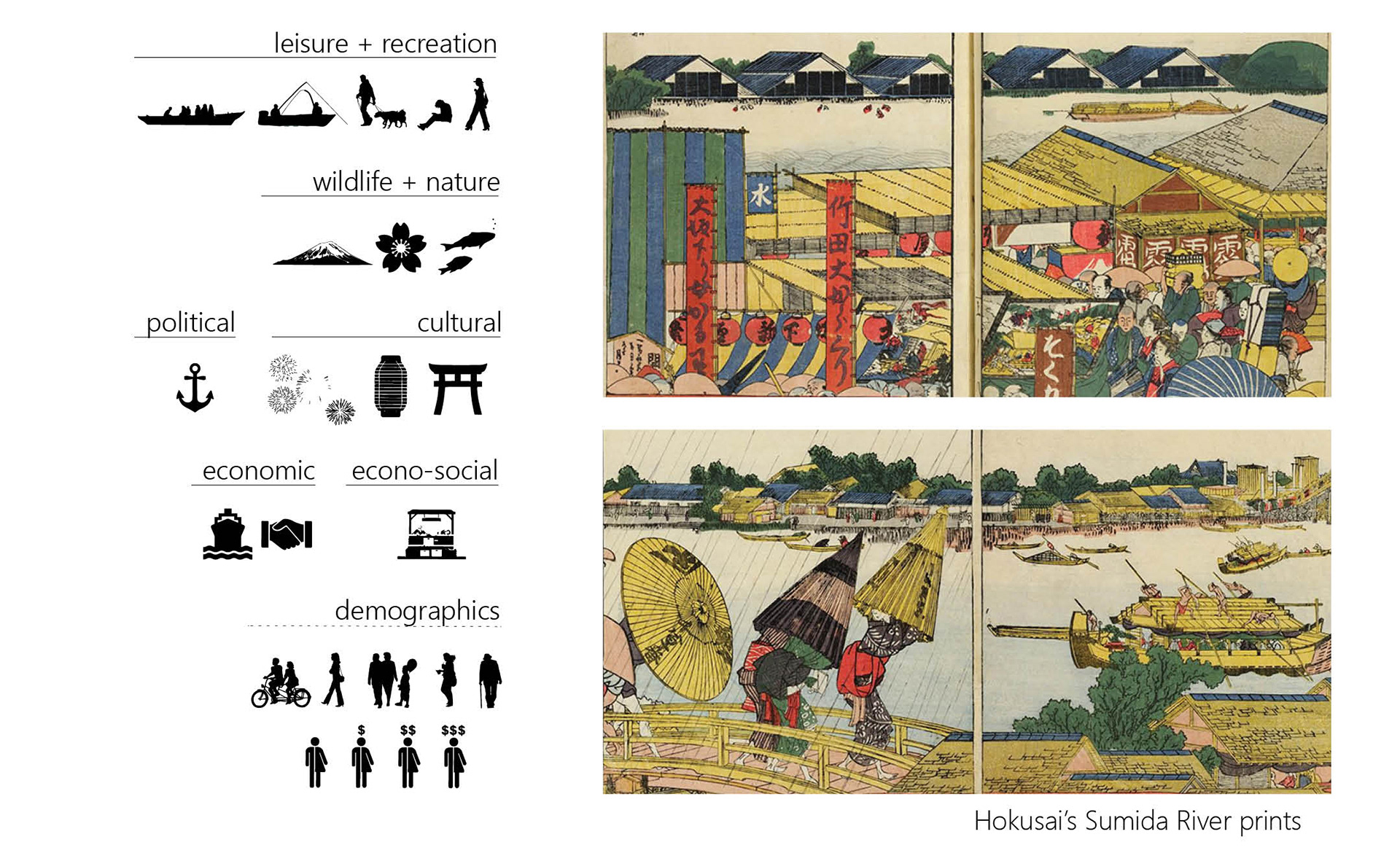 CONTEMPORARY
Contemporary use of the waterfront is more limited. While still used for transport of goods, other usage is generally related to leisure and culture. The river is a popular site for boat tours and activities are mainly focused around annual festivals (like the famous Sumida River Firework Festival) and appreciation of scenery (cherry blossoms & views of Mt. Fuji). The river is a popular site for tourists.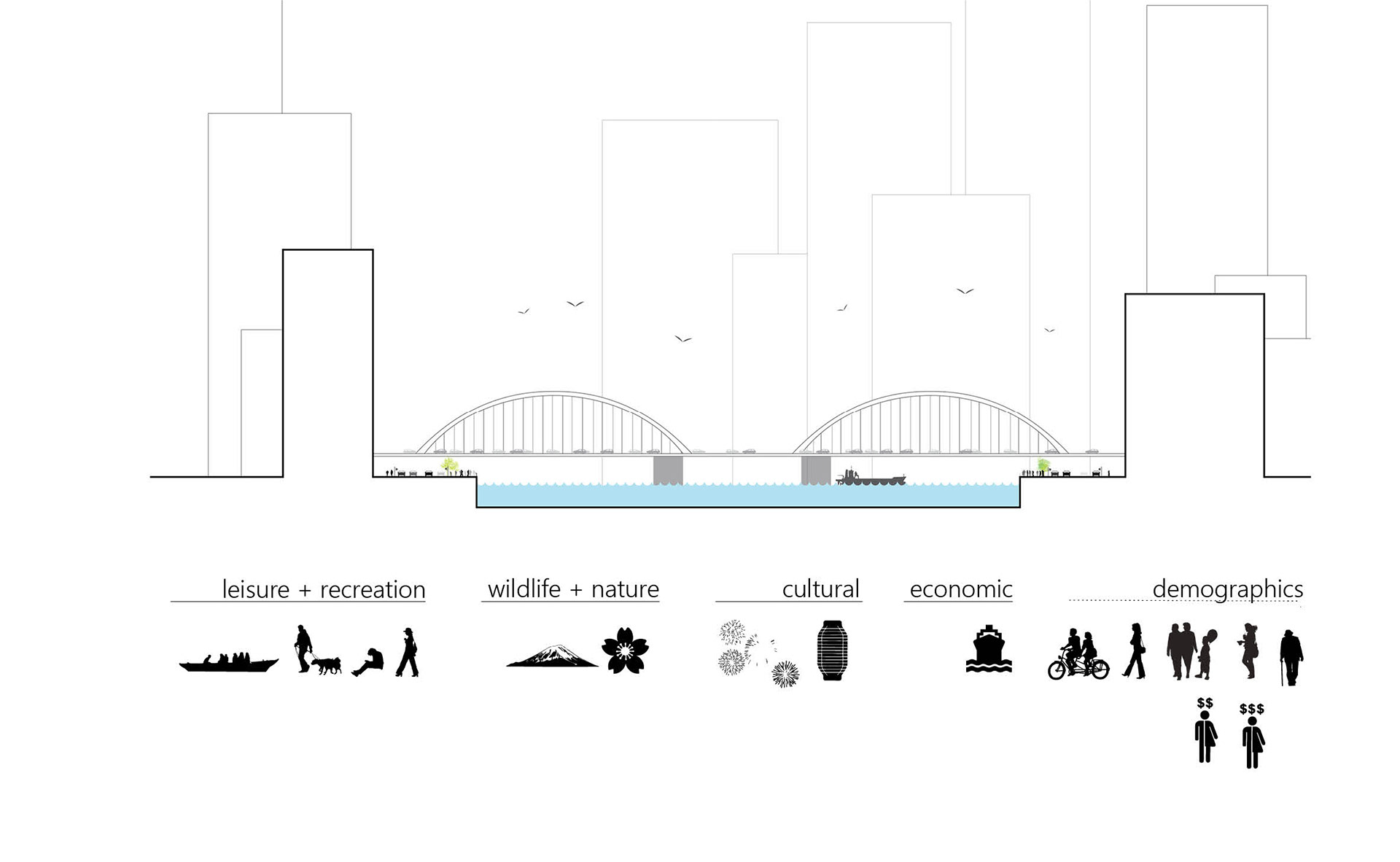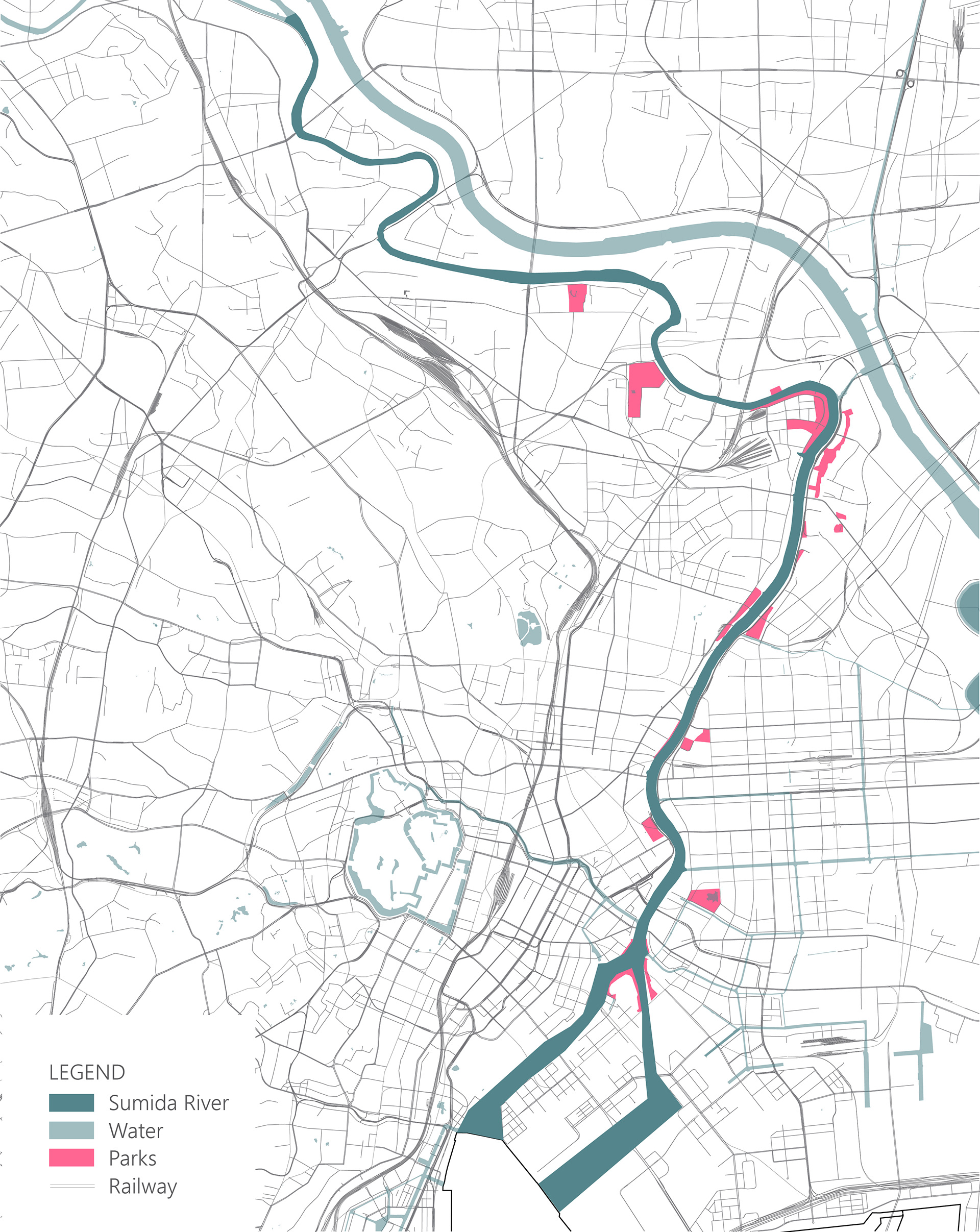 SEOUL
CHEONGGYECHEON CREEK
Once a natural creek, Chonggyecheon creek was covered with concrete in the late 60s as part of post-war economic development. In the early 2000s, the creek was restored as part of a government initiative to strengthen the cultural character of the city.
Running through a significant portion of Seoul, including the political center of the city, the creek acts as an active park and public space running through both high and comparatively middle income areas of the city. The recession of the creek below the groundplane creates a space effectively separated from the activity of the city. It is a popular destination for locals from a variety of demographics.
Interestingly, a variety of social and cultural activities encouraged by the city (photo opportunities and couples benches) seem largely ignored by the populace, but the creek has been a popular gathering place for political action, particularly protests following the Sewol Ferry Disaster in 2014.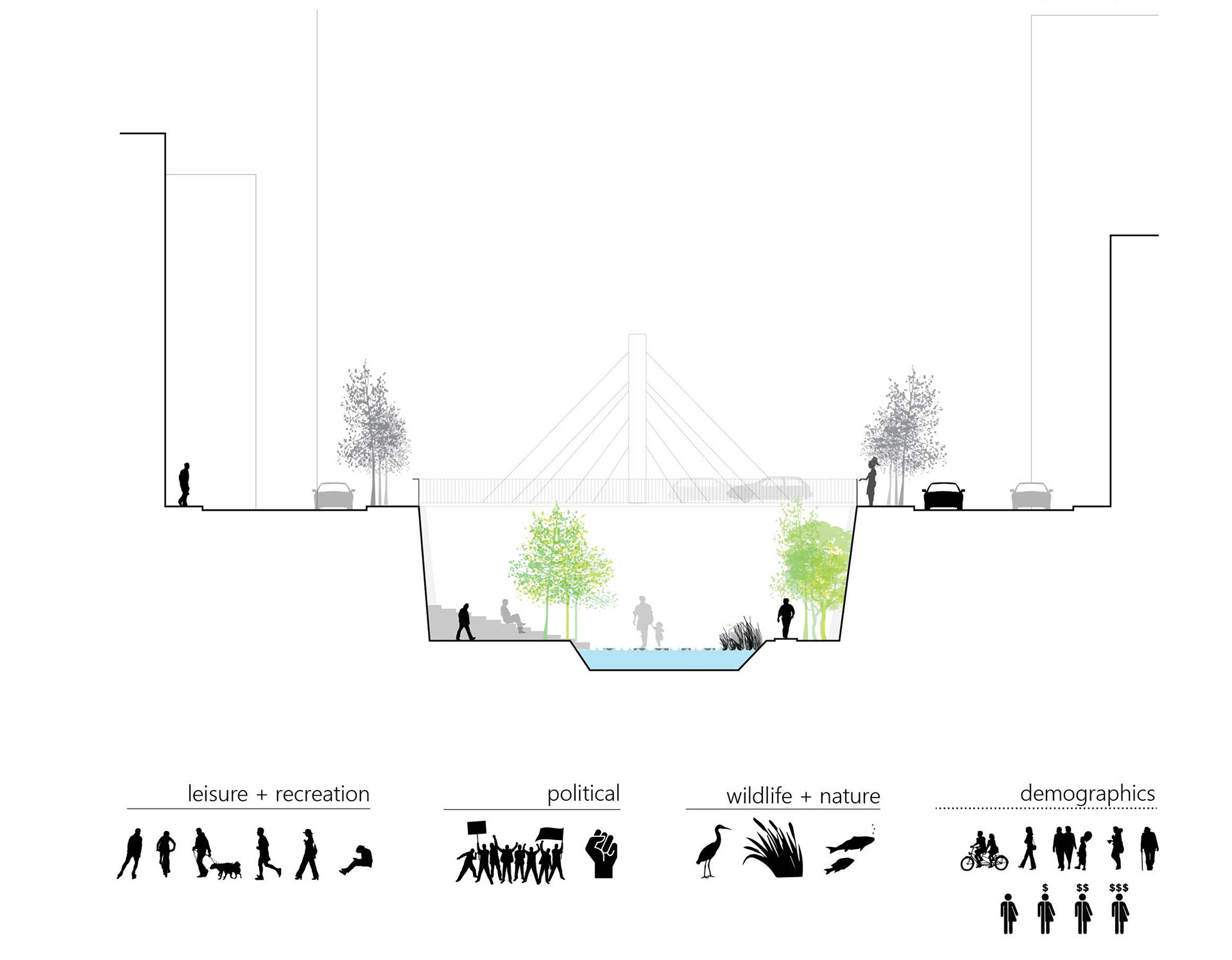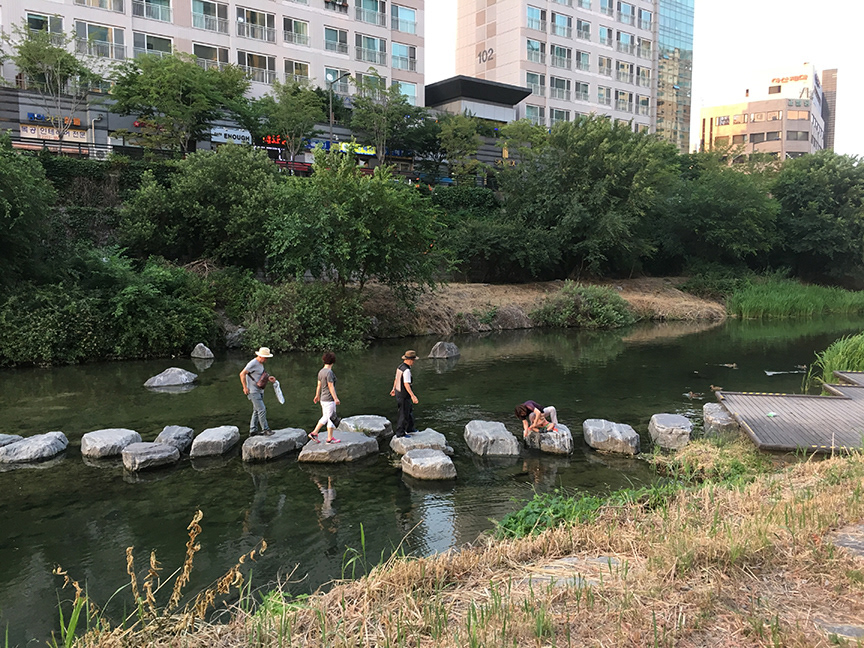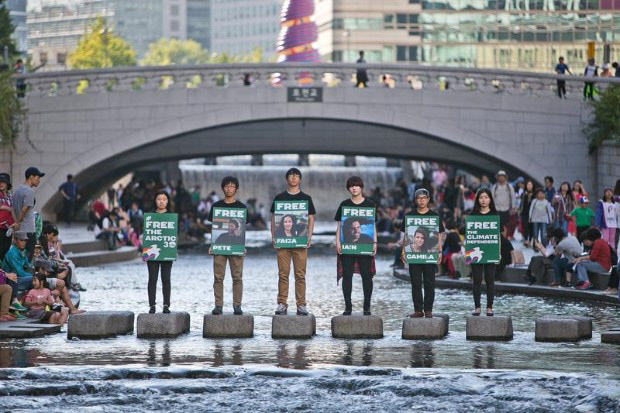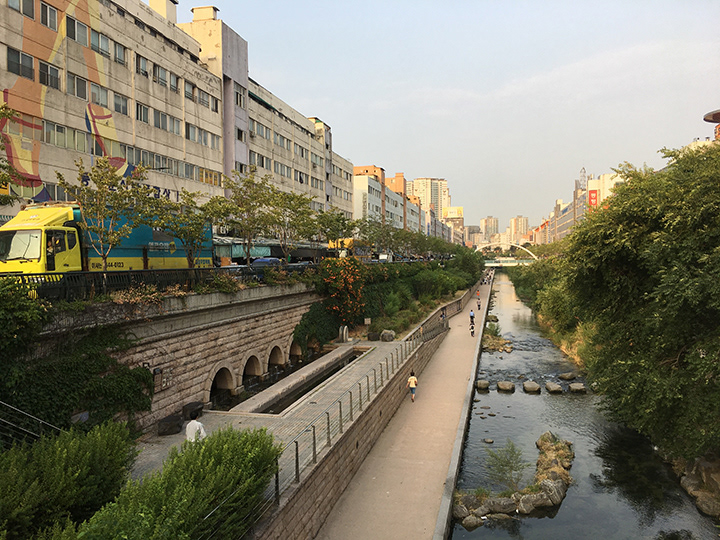 OSAKA
DOTONBORI CANAL
Dotonbori Canal has a distinctly Vegas-esque feel, with its neon signage and abundance of food and nightlife. Souvenir shops and the diversity of restaurants keep the area lively during the day, but at night the canal area is packed with performers, restaurant-goers, and people headed to the clubs.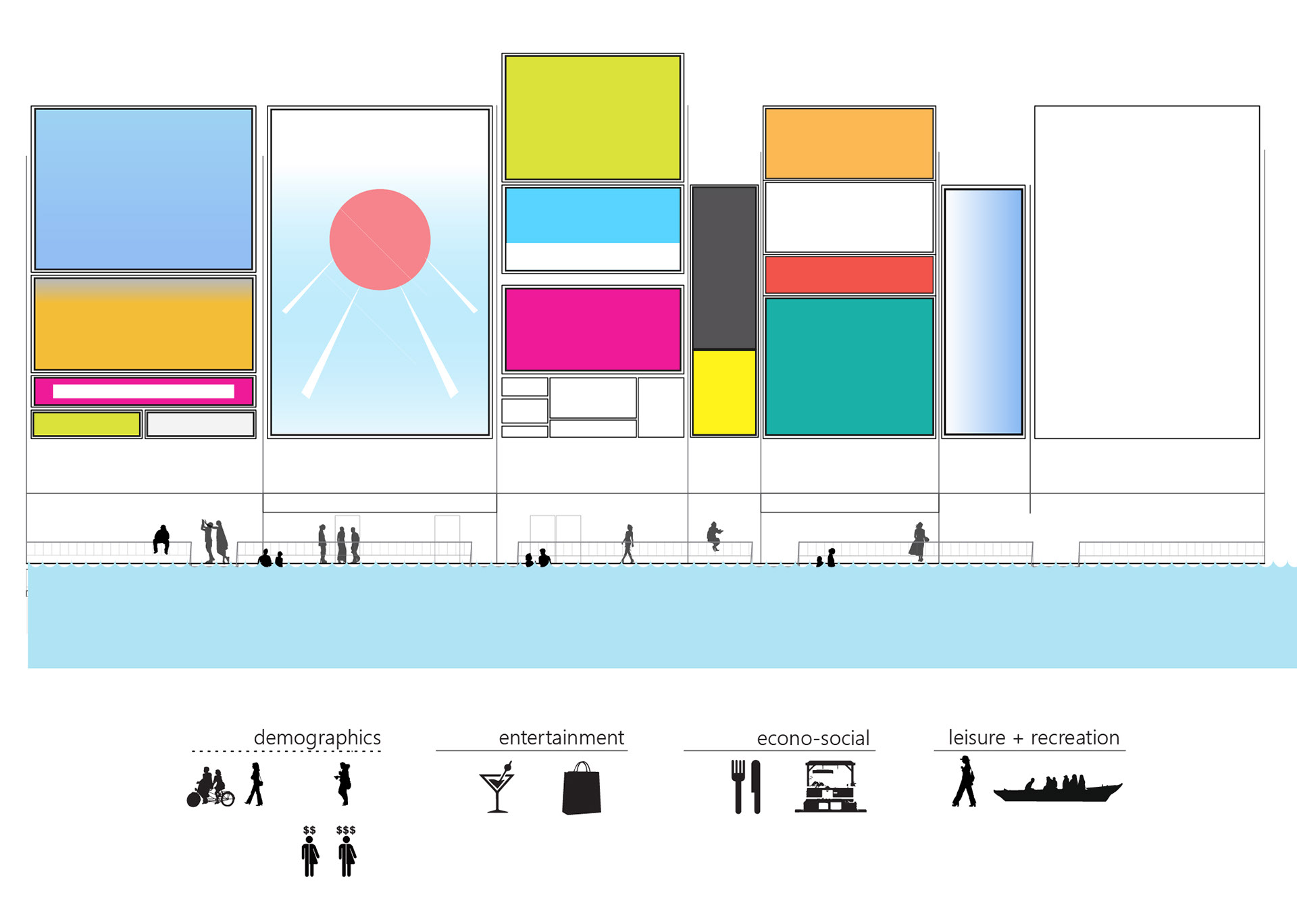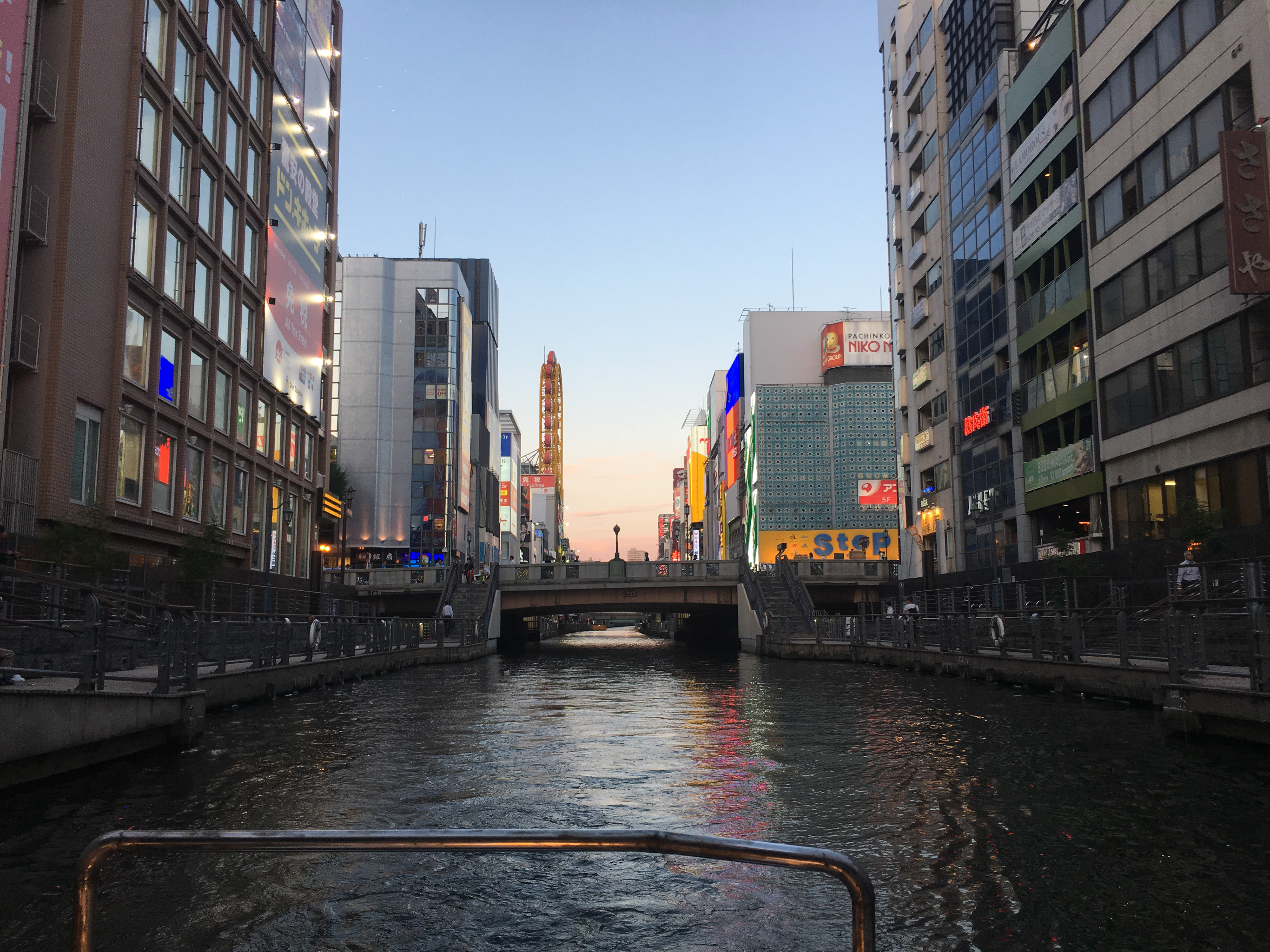 SHANGHAI
HUANGPU RIVER
The Bund area is well-known for its breakneck pace of development; in less than 100 years it has transitioned from an area with low density, lowrise buildings to an extremely dense area of increasingly tall skyscrapers. While the density of built work has skyrocketed, the riverfront remains comparatively empty.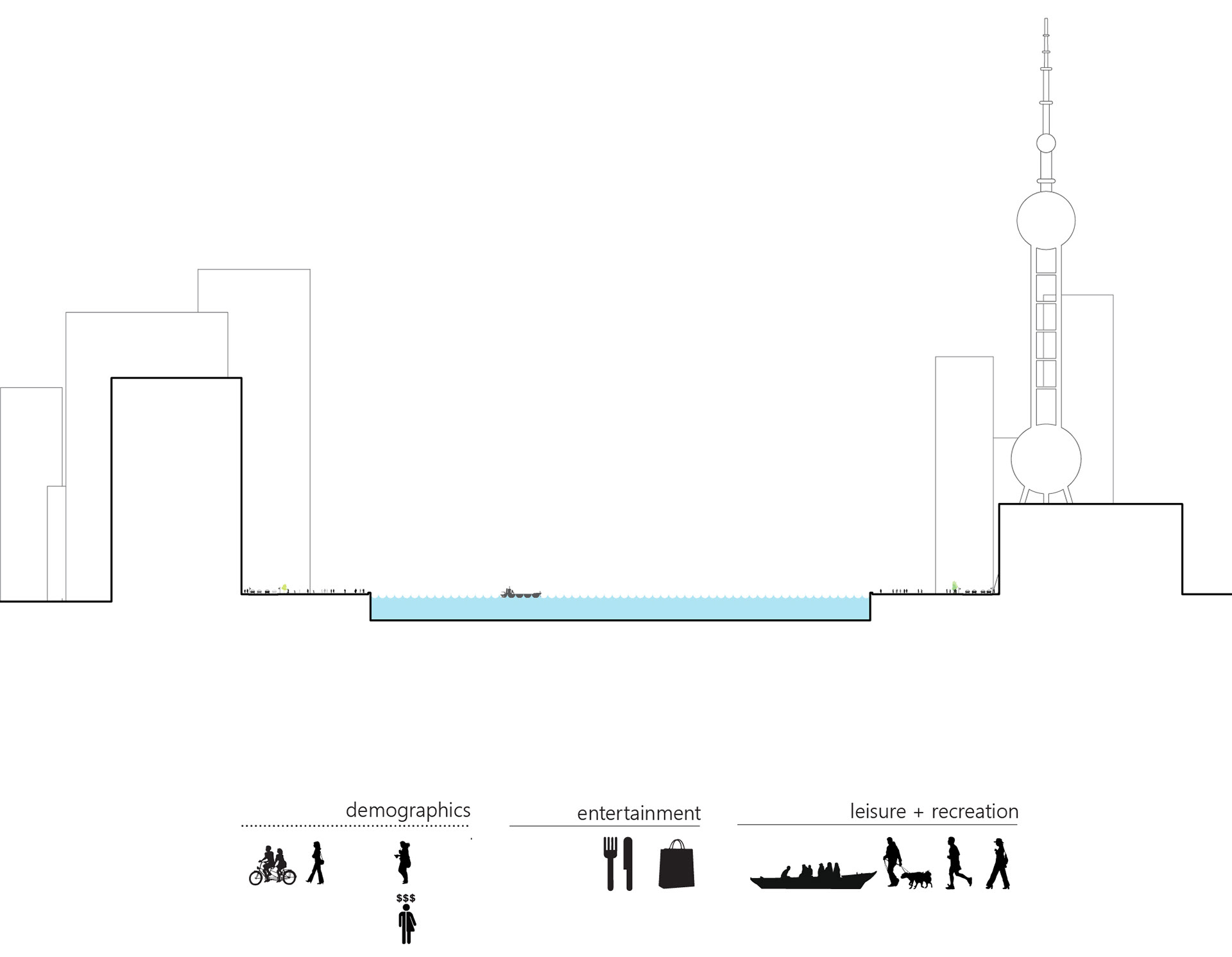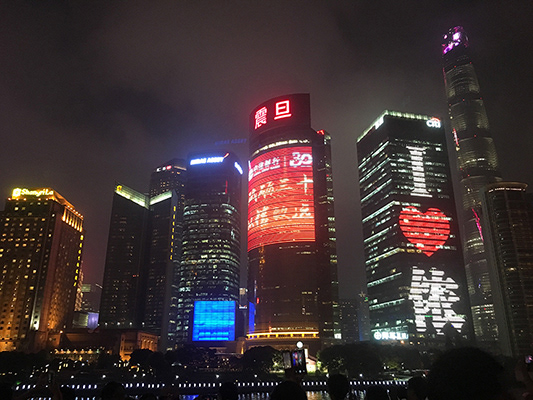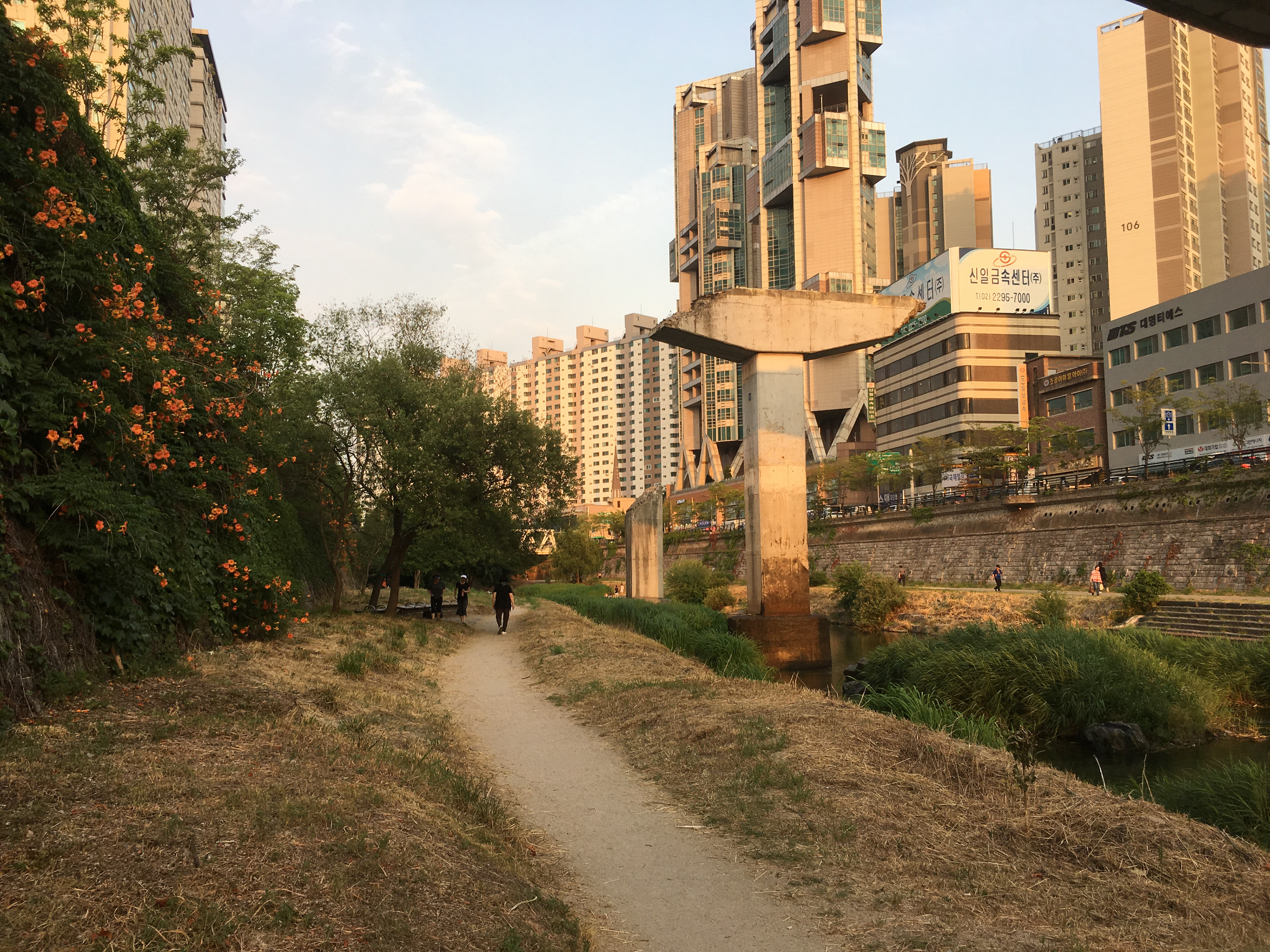 CONCLUSION
My research began as an interest in the formal relationship of bodies of water to the city, but became a more political study of how and for what the waterfront is organized and therefore, what kinds of human and non-human entities it serves.
Though the project was brief, distinct patterns emerged. Large bodies of water tended to serve as aesthetic backdrops. Program in the area tended to be high density commercial and activity adjacent to the waterfront was limited and appealed largely to tourists. These waterfront areas were more thoroughfares than places to be occupied.
Smaller bodies of water tended to organize specific kinds of program, for example, focused on wildlife or nightlife, and appealed to a wider variety of people. These waterfront areas encouraged more extended occupation.
Ultimately, my research led me to more questions: what relation if any does activity on the waterfront have to culture? What aspects of economics or culture deter people from occupying the waterfront? What localized design conditions deter or encourage people from occupying the space? How can thoughtful design bring back activity to the waterfront in a democratic way?