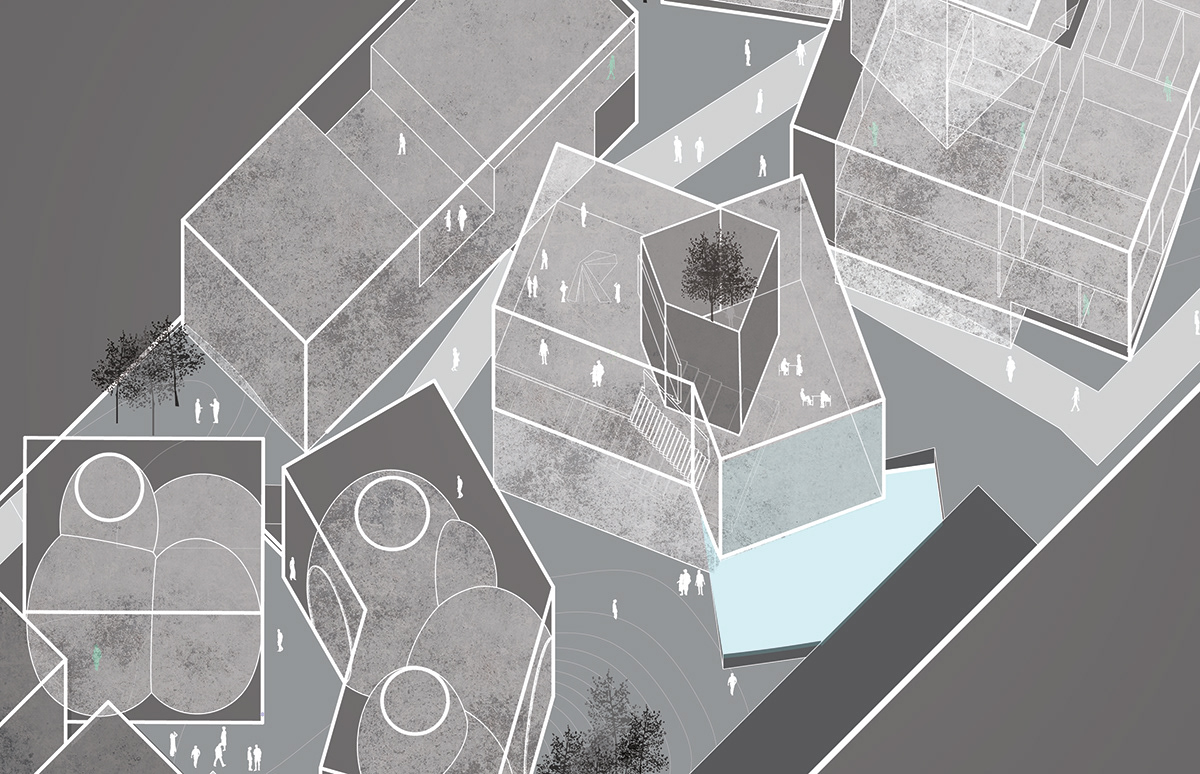 [INTRO]
Embassy of Hidden Figures offers a critique of United States foreign policy and image-making abroad. While contemporary embassy construction has sought to project an image of a transparent and welcoming state, US foreign policy, particularly towards Mexico, has had a long tradition of suspicion that has peaked under the current administration.
In order to spatialize ideas of trust and deception, the project offers an experience which continually promises and subverts expectation of how buildings operate in the site. The project delivers on the programmatic needs for security so critical to an embassy, but does so in a manner that also exposes the inherent paradox in the nature of the embassy's need for both intense security measures and its desire for openness, as well as the paradox in the US's portrayal of itself as a friendly state as it antagonizes others for the sake of its own interests.

[THE BIG IDEA]
Each building in the site, cut in section, offers a surprise; while the wrappers of each building follow the same module, the interior figure of each building occupies that wrapper in a variety of different ways. The transparency in the project is strategically placed in the project to only reveal these leftover, or residual spaces. While visitors visually seem to be offered the opportunity to see into the workings of the embassy, that experience is offered and denied to them.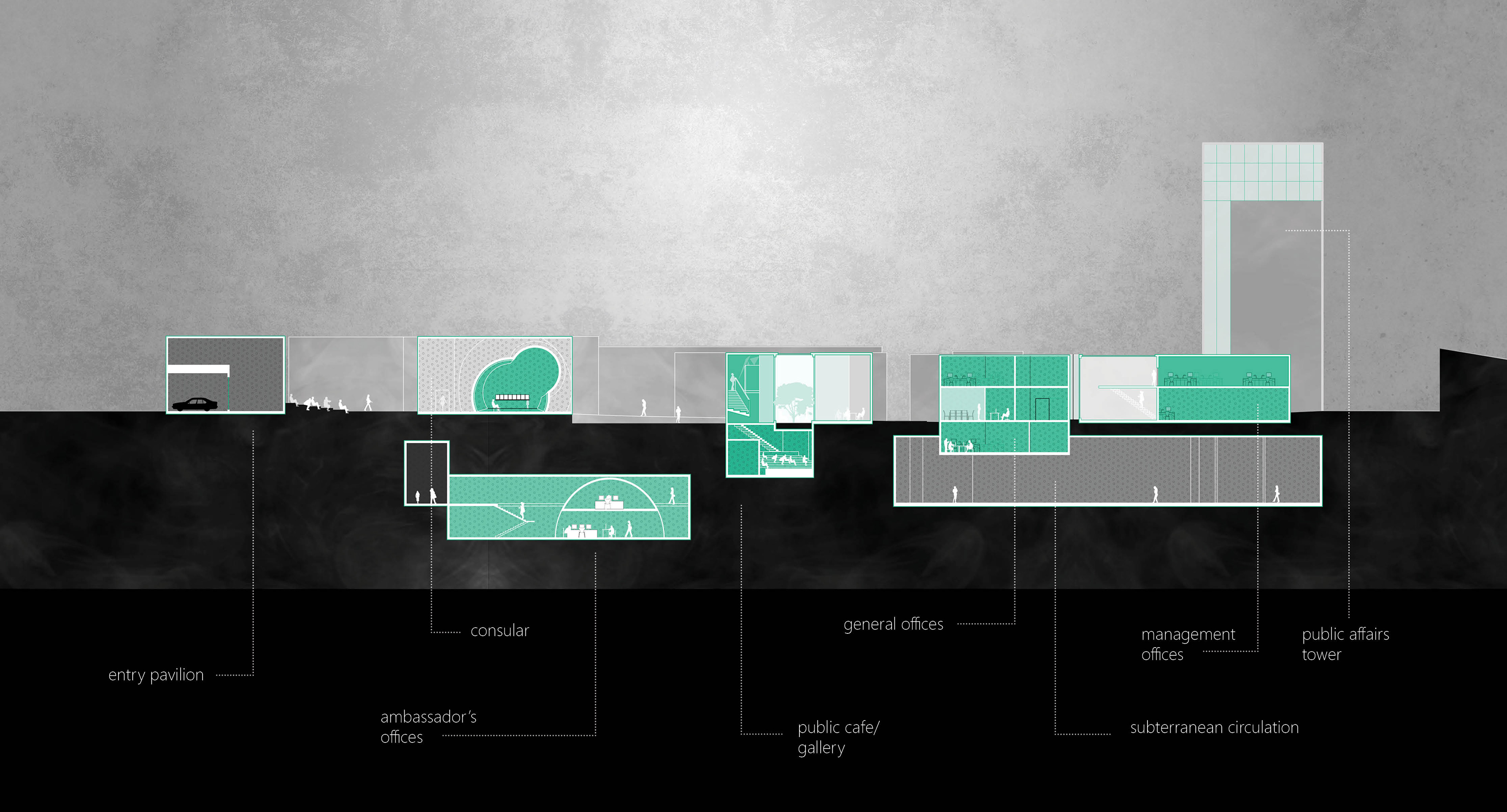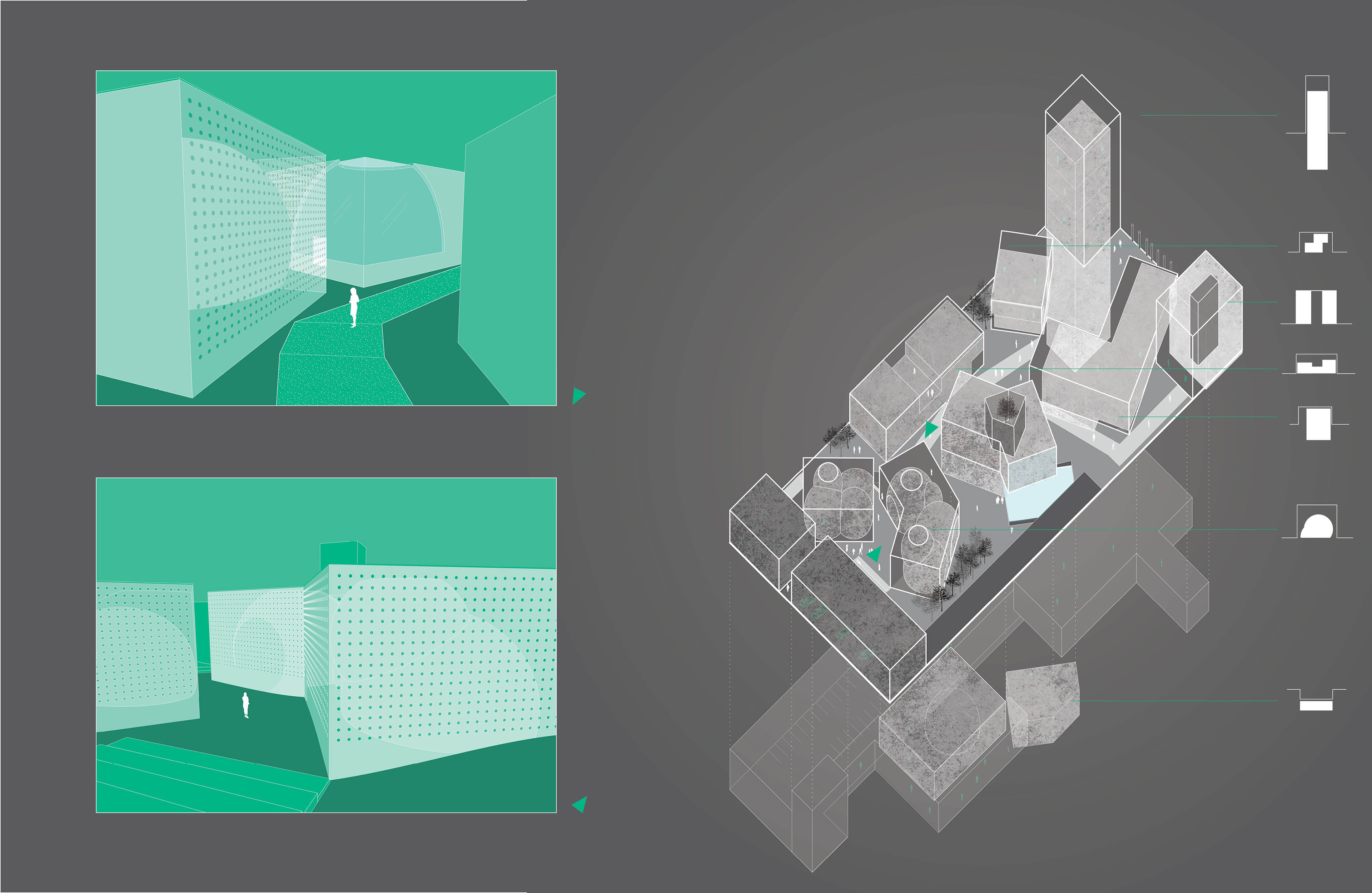 [procession]
The creation of thresholds is an important part of the experience of the project. Processionally you enter on street level and descend into the site. The descent of the topography makes the interior organization invisible from the street level. A fairly singular path leads you through the site where the organization of the buildings, which block views of each other, mean turning each corner leads to seeing surprising things, like looking into a window that shows you nothing.
The site is organized around three courtyards that relate to the different levels of public access. The first, consular courtyard is meant for the large and temporary population served by consular services. The public courtyard organizes the public programming that is primarily for a smaller, more consistent public population. The last, business courtyard, is primarily for people who work with and within the embassy.
[security]
Program on the site is largely distributed in relation to the courtyards mentioned above, except for the most secure program, the ambassador's offices and information services. The most secure program is hidden entirely underground, although the project suggests otherwise. The glass office at the top of the public affairs tower seems to suggest that the ambassador's office is located there, but it is actually underground. Information services is hidden underneath the water cistern on the site. 
The organization of buildings and grading on the site creates a secure perimeter which directs entry to secure processing locations.